On behalf of all of the attorneys and staff at Donald R. Smith & Associates, we wanted to take a moment to show our appreciation for the brave healthcare workers and first responders who have been

sacrificing

 and saving lives during the pandemic and beyond. Your tireless acts of bravery will always be etched into our hearts and we are forever thankful for your dedication and service to keeping our country healthy and safe. 
Donald R. Smith & Associates wanted to highlight members of our community who are working hard to support the courageous men and women on the

front-lines

 combating Covid-19. Two of those community helpers are long time family friends of the Smith and Grogan families, Micah and Molly Kapp, who have set out to buy 50 Respirator Masks for healthcare workers in the ICUs of Palm Beach County. 
Micah and Molly Kapp , who have established the fundraising, are 12 and 14 year old siblings and middle school students at The Palm Beach Day Academy. "We will purchase these Powered Air-Purifying Respirators or (PAPRs) to protect the nurses from contracting Covid 19 so they can provide the best care possible without the chance of contracting Covid 19," said Micah Kapp, "We want the healthcare workers in Palm Beach County to have the proper protection they need to be able to stay safe and healthy while taking care of COVID 19 patients," said Molly Kapp.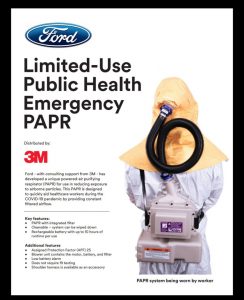 All proceeds will be used to buy Ford Motor/3M Scrappy PAPRs. PAPRs are Powered Air-Purifying
Respirators. They cost $700 each compared to N95 masks which cost $1-2 each. They are used by healthcare
workers caring for COVID 19 patients. They are designed by Ford Motor co working with 3M to jointly develop a new design leveraging parts from both companies. Using off-the-shelf parts like fans from the Ford F-150's cooled seats for airflow, 3M HEPA air filters to filter airborne contaminants such as droplets that carry virus particles and portable tool battery packs to power these respirators for up to eight hours.
The Personal Injury attorneys and staff at Donald R. Smith & Associates care deeply about our community and want to help keep our front-line workers safe. We appreciate all of the sacrifices the medical community are making, they are true heroes. If you are interested in learning more about the Micah and Molly's mission please visit their Micah and Molly's gofundme page!