Brandon D. Smith, Esq.
Litigation Attorney
To reach Attorney Brandon D. Smith directly please email: brandon@lawpalmbeach.com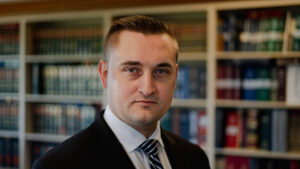 Attorney Brandon D. Smith zealously represents personal injury victims and the accused as one of Smith & Smith's aggressive litigators. Mr. Smith's primary areas of practice include vehicular accidents, slip-and-fall accidents, wrongful death, ultra-hazardous equipment, ride-sharing collisions (Uber & Lyft), bicycle/pedestrian accidents, boating and maritime accidents, trucking accidents, railroad and aviation accidents, dog bites, premises liability, DUI defense, criminal defense, and civil defense.
Mr. Smith is a native of Palm Beach County, Florida, and graduated Cum Laude from Florida State University with a double major in Mandarin Chinese Language and Political Science. Brandon went on to graduate with a Juris Doctorate Degree from Florida International University College of Law.
Mr. Smith enjoys serving the community, and enjoys giving back to the community by serving as a judge in mock trial competitions and appellate competitions, which include high school, college, and law school. Mr. Smith also enjoys volunteering for Junior Achievement, teaching students about civics, government, the United States Constitution, and law.
Areas of Practice
Personal Injury

Automobile Accidents

Pedestrian/Bike Accidents

Slip-and-Fall Accidents

Wrongful Death Accidents

Boating Accidents

Maritime

Longshore and Harbor Workers' Compensation Act

Ultra-hazardous Equipment

Dog Bites

Tort

Breach of Contract

Commercial Litigation

Realtor Commission Disputes

Condominium

Home Owners' Association

Construction Defect

DUI Defense

Complex Regional Syndrome
Ride Sharing Collisions (Uber & Lyft)
Liability Defense
Premises Defense
Civil Defense

Administrative

Litigation

Trial Advocacy
Bar Admissions
Florida Bar – 2017

United States District Court for the Southern District of Florida – 2017
Education
Cum Laude, Florida State University, Tallahassee, Florida, 2014

Majors: Mandarin Chinese Language and Political Science

Florida International University School of Law, Miami, Florida, 2017

J.D., Trial Team
Professional Associations and Memberships
The Florida Bar – Member

Palm Beach County Bar Association – Member

Young Lawyers Section of the Palm Beach County Bar Association – Member
North County Section of the Palm Beach County Bar Association – Member
Personal Injury and Wrongful Death Committee of Palm Beach County
Appellate Practice Committee
Literacy Committee